How to Buy a New e-Lybra 9 System
Thank you for your interest in the e-Lybra 9 System, and for visiting my site. If you would like to know more about the system or to arrange a demonstration then please send me an email at medicflow@mail.dk, or telephone me on +45 22 17 04 70, or contact me via Contact Request Form below.
Price
The price of the e-Lybra 9 system is based on British currency and sells for £9,500 plus VAT (if applicable) and delivery. If you live outside EU, you´ll receive the invoice without VAT. If you live inside EU but outside DK and are VAT registred, you can buy the system without VAT. Please contact me for more information.
This price includes a 3 year warranty, 3 years of ongoing software updates, and two days of one-to-one training. For more information about what you actually get for your money
e-Lybra 9 System Package Details
Buying an e-Lybra: What You Actually Get "In The Box"
e-Lybra 9 System Unit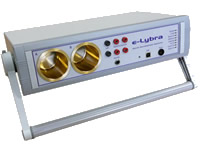 The core part of the package!
---
e-Lybra 9 software install CDs for Windows XP and Vista/7/8
Includes a DVD of training videos to play on your computer. Software updates are available for download from our website to all registered e-Lybra owners
---
3 x e-Pebbles, 3 x e-Pendants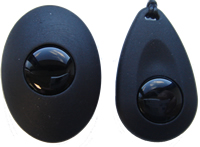 The e-Pendants and e-Pebbles are bio-resonance storage devices. They can be programmed and charged during an e-Lybra balancing session with bio-resonance patterns. The e-Pendants can be worn around the neck, can be held, placed in a pocket or under the pillow at night.
---
1 x Quantum Star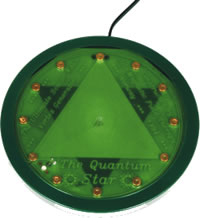 For any practitioner doing distance work, using the Quantum Star will add an extra 30% extra effectiveness. It is a small disk (150mm diameter) and plugs into the "Remote" socket on the e-Lybra unit. It acts as an antenna and boosts the transmitted signal at a distance (i.e. no client present).
---
1 x Crystal Spiral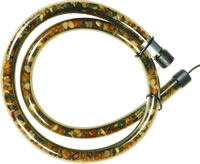 The one metre long Crystal Spiral acts as a remote transmitter for the e-Lybra and is most useful to put over areas of pain or areas recovering from damage or stress e.g. across the shoulders, around the waist, around a leg, around the ankles or knees.
---
1 x Standard USB 2.0 Cable : Type A to Type B : 1.8 Mtr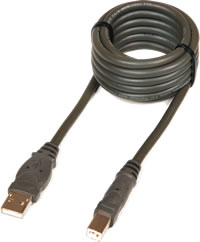 To connect your e-Lybra to your computer
---
1 x 9V DC Power supply with adaptors for UK, EU, USA, Japan, and AU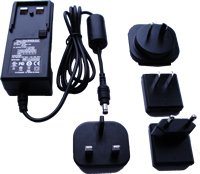 A power supply suitable for any country in the world (NB It is strongly recommended that you obtain an electrical surge-protector to protect this, and any other, sensitive electrical equipment).
---
e-Lybra cable connection kit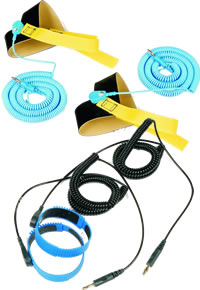 Cables and straps to connect your client to the e-Lybra system – a pair of wrist straps and connection cables, a pair of Heel and Ankle straps and connection cables.
---
DVD Set of Practitioner Lectures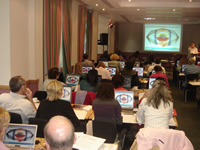 Footage from a previous conference in which several practitioners gave presentations on different aspects of usage of their e-Lybra system.
---
Training voucher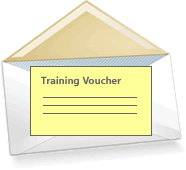 In addition to the initial 2 days of training that you have when you buy the system you also receive a voucher to pay for attending a 2-day refresher course any time after 6 months of purchase (NB Any accommodation and meal charges will still apply)
---
Bonus: 1 x Silent Healing CD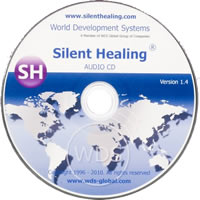 The human energy field is subjected on a daily basis to a myriad of electro-magnetic radiations caused by such things as mobile phones, geopathic stress, sick office syndrome, and other people's negative emotions which can have a detrimental effect on the subtle energy systems of the human body. The Silent Healing audio CD has been developed using advanced technology associated with analysis and balancing of the subtle energy systems of the human body. Our research has shown that selected bio-resonance patterns are beneficial in restoring the balance of the subtle energy systems within the body's bio-field. Our engineers have encapsulated these patterns onto the audio CD. The Silent Healing CD releases the bio-resonance patterns into the body's bio-field when it is played back through the amplifier and speakers.
---
Bonus: 1 x Computer Clear CD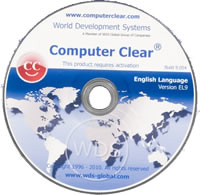 Computer Clear is a software programme designed to counter the negative electro-magnetic effects on the body's bio-field, caused by the computer, its monitor, printer and other peripheral devices directly connected to the computer, and is also designed to combat the subtle negative radiation that comes through the Internet. Computer Clear is now supplied with a license that allows installation on up to three computers. This could be one on your PC at home, one on your laptop, and one at your place of work; this is great news for the whole family as everybody can benefit.
---
Bonus: 1 x Water Enhancer mat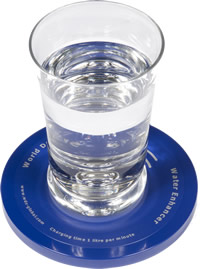 The Water Enhancer is placed under a jug or container of filtered water for between 15 and 30 seconds per litre. A special proprietary formula has been created to enhance the water and is specially selected to improve people's wellness. This has the effect of increasing the life-force energy of the water and of making the water more bio-available to the person. The Water Enhancer makes flat water livelier and easier to drink. This is especially good for people who find the recommended daily intake of two litres of pure water per day difficult to drink. Many people suffer from dehydration on a daily basis because they cannot stomach ordinary water. The Water Enhancer is a non-electric device designed to enhance water, and is supplied in a rugged rich blue polycarbonate ABS case 140 mm in diameter
---
Warranty Statement
The reliability of the e-Lybra allows WDS to offer a 3 year guarantee on hardware (base unit) and also 3 years free software updates and support. At the present time software updates are still being provided for free to all past purchasers of the e-Lybra system but WDS do intend to introduce a subscription based software/hardware support package for all systems, which will still be free for the first three years after the initial purchase.
More information about e-Lybra 9
e-Lybra Software
When you purchase your e-Lybra system you will receive an initial software CD pack which will contain the latest version of the e-Lybra installation program. Following on from this, the latest version of the software will always be available as a single-file electronic download which can be accessed by any registered e-Lybra owner at any time from the e-Lybra Owners Area of the main WDS website.
The e-Lybra software pack consists of 2 software CDs and 1 training DVD
Software installation CD for Windows 8, 7 and Vista
Software installation CD for Windows XP
DVD containing videos explaining most of the common e-Lybra operations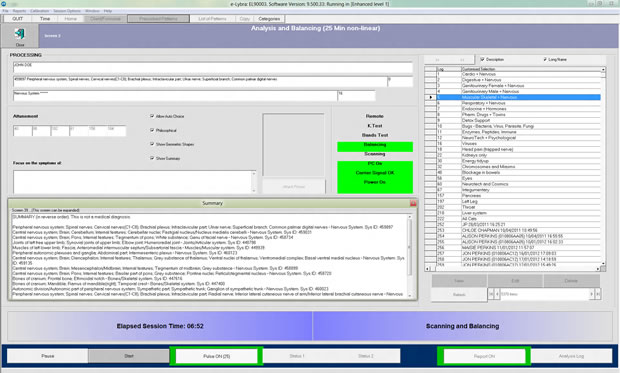 The analysis and balancing screen
Languages
The e-Lybra software pack defaults to the English language, but also includes Norwegian, Danish and Spanish. Additional languages are currently being considered for inclusion.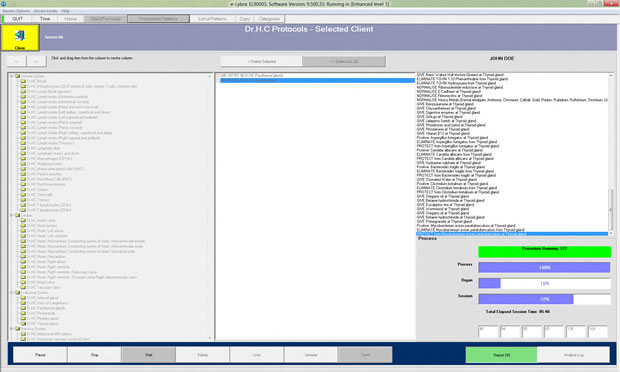 The Dr Hulda Clark Protocols screenThe Dr Hulda Clark Protocols screen
Recommended computer specifications
Most modern notebook or desktop computers are likely to be sufficient to run the e-Lybra software, but we do not recommend netbooks as these are likely to be underpowered and with too small a screen resolution.
The e-Lybra software is written to run under the Windows operating system, from Windows XP onwards to Windows Vista, 7 and (so far) Windows 8.1. Customers have reported successfully installing and running e-Lybra onto the "Parallels" Windows emulator on Apple Mac computers.
Although the software is likely to run on a lower specification, the ideal minumum specification for the software is:
An Intel Core i3 processor (i5 or i7 is even better but more expensive, so i3 will be fine)
2GB of RAM
Windows 7 Home Premium (or Windows 7 Professional/Enterprise/Ultimate will also be fine). It doesn't matter whether the edition of Windows is 32-bit or 64-bit.
Screen resolution of 1280 x 1024 or higher would be our preference for best results. However, customers are running the software OK on a lower resolution e.g. 1366 x 768. If in doubt please contact us for specific advice.
You will initially require 200MB of hard disk space, although this usage will of course increase a bit as you start adding client data.
You will need 1 USB port free for connection to the e-Lybra system
CD/DVD drive for the initial software, and a mouse or other pointing device
An Overview of The e-Lybra 9 System
The e-Lybra 9 Energy Balancing System is a bio-resonance / bio-feedback device which can analyse and restore energetic balance within the bio-field of humans and animals. Many current e-Lybra owners already have prior experience in homeopathy, radionics, biofeedback techniques, energy medicine or chakra balancing. Some e-Lybra owners are also medical doctors.
After years of prior investigation and experimentation, in 1991 Victor Sims successfully developed an electronic interface which allows bi-directional communication between a machine and a human body. This interface, in the form of electronic circuitry and a special transducer, was integrated into an electronic device which was called the e-Lybra system. A dedicated software program was also written to work with this device, and in the same year World Development Systems was formed.
Our original design in the early 90's has organically developed to encompass the very latest technology available, making it one of the most effective energy balancing systems in existence.
Leading the field in bio-resonance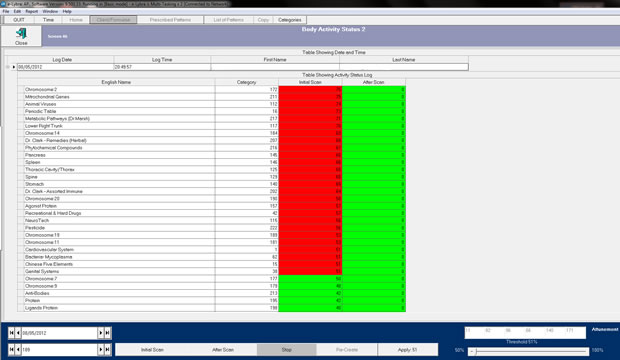 In our opinion the e-Lybra technology is significantly more advanced in interfacing with the consciousness of the person at a deep level in order to effect change than other, more expensive energy balancing devices. It is this crucial feature that sets us apart from other energy medicine systems!
World Development Systems were one of the first companies in the world to develop this type of technology with our initial e-Lybra 8 system and since that time many alternative systems have also joined this exciting area of research including Core system, QXCI, SCIO, L.I.F.E. system, NES, Timewaver, Asyra, Vitascan, and Bicom. We have also continued to evolve our own technology and now sell the e-Lybra 9 system which contains many new and significant protocols such as Energetic Intervention. We are one example of an emerging science that is coming to be known as Consciousness Technology. However, we are also the only bio-resonance device which currently offers a full implementation of the Dr Hulda Clark protocol in addition to the other groundbreaking features such as Interference Balancing.

Every physical / mental / emotional imbalance has an energetic counterpart that must be balanced in order for the cause of the condition / disease to start its own healing process. The ability of the e-Lybra system to make changes in the biofield is immense and is still becoming deeper as we continue to develop our understanding of the consciousness of the body.
Pioneers before us have paved the way ahead. In the 1930s Albert Abrahams developed the first present-day Radionic devices, while during the same decade Royal Rife was demonstrating remarkable results with his own technology which – even in that era – was indicating success in the battle with cancer. Earlier than that, in the eighteenth century no less, Dr Samuel Hahnemann developed and described the principles of modern homeopathy. Other researchers such as Dr Voll and Dr Mora have also progressed our understanding of the energetic connection between the biofield and the physical, and how this is a crucial part in the wellness of the person. The discoveries of these luminaries have formed the building blocks of modern-day energetic balancing machines such as the e-Lybra.
Helping nature heal
It is It is encouraging to see that eastern medicine – with its long lineage of success in restoring balance to the whole body – is becoming more widely accepted in the west. In many hospitals acupuncture and acupressure have been accepted as a complimentary health tool to balance meridians and help with pain management.
For the general population however finding out about complementary health treatments usually occurs when a health challenge presents itself to the person or family member. Almost any health condition can be helped by energy balancing using the e-Lybra system and WDS energy balancing technology. WDS has a wide product portfolio of products both for personal/animal and agricultural energy balancing situations.
People who have had a balancing session on the e-Lybra report changes from the subtle to the profound, regardless of the presenting symptoms. Having an aura balancing session on the e-Lybra often provides a great change for the person and can educate them to keep themselves balanced. Eastern philosophy has influenced the creation of the e-Lybra system by introducing the concept of Chakra, subtle bodies and meridians among many other components of the energy system of the body.
In addition to energy balancing we recommend supporting the body by providing the material building blocks in the form of natural Food-state or Whole Food supplements and NOT supplements that are chemical isolates. As people evolve on their path of awakening or becoming more conscious they often seek more subtle adjustments to their own energy field, focusing on specific emotional issues, trauma and conditioning, the e-Lybra system will help with personal development in all of its aspects.
Homeopathic Remedy Production
Make single or multiple remedies easily and quickly in any potency
Comprehensive listing of 2,700 homeopathic remedies from the current Materia Medica
Bacterial, Viral, Hormone, Fungal, Enzyme, Protein/Peptide, and Pharmaceutical Drug Remedies
Ability to select any potency in X, C, LM (so if you want 28c or 4x or 18LM then you've got it!)
Buffered Interface Matrix (BIM) variable potency
They are equal to, if not better than serial or conventionally made remedies. They seem much cleaner and more precise.
Andrew Marsh, Doctor of Homeopathic Medicine, D.O., F.H.M.A. (UK) H.D.
The Scan/Balance Function
Dating back to the earliest version of the software, the Scan/Balance function (also known as the non-linear scan) is one of the most commonly used features of the system. The operation is largely automatic from just a few menu clicks, although the practitioner has the option to override/edit the chosen categories for balancing if a more interactive process is wanted.
A typical balancing session protocol consists of running an "Initial Alignment" formula for 10 minutes in order to prepare the body (similar to "opening the zones" in Reflexology"), followed by a full-body scan. The body scan produces a profile automatically selected/tested from more than 200 categories. The profile is then used as a work list in the main analysis and balancing session, which is typically run for 45 minutes. During this process the e-Lybra produces bio-resonance patterns which are delivered to the client and also stored on the bio-resonance capsule which the client takes away and wears on their body. At the end of the analysis and balancing session an "after" body status is recorded showing changes that have occurred in the client's bio-field which takes a further 5 minutes. Lastly, a grounding formula is run for 5 minutes to make sure the client is fully awake before completing the session. Variations to the protocol include adding extra formulae for specialised processes such as addiction therapy, weight balancing, to name but a few. The use of the e-Lybra is only limited by the creativity of the Practitioner.
Body Scan
At the start of the process an initial status can be obtained, whereby the e-Lybra measures the degree of balance within each of the system categories for the client. A threshold value can be defined by the practitioner, whereby each of the categories that report a higher degree of imbalance are displayed in red and are automatically chosen for inclusion within the Customised Selection for the forthcoming session.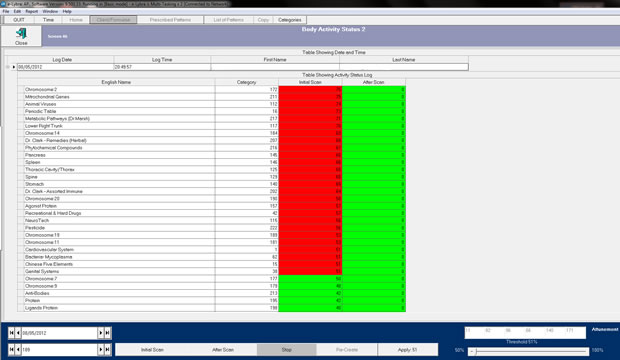 Balancing
Once the Customised Selection has been created automatically by the Status Scan process the practitioner can optionally choose to edit this list – either by deleting or adding additional categories as appropriate. Once this has been done the balancing process is started and the balancing process runs automatically for 15, 25, 45 or 120 minutes as specified. From the list of selected categories, the e-Lybra first uses a selection process to determine which specific category needs attention. Once this has been determined it then uses an algorithm to determine which specific pattern(s) within this category need to be applied in remedial form. This process then continues for the duration of the session. At the end of the run the practitioner can optinally choose to run an After Scan to see what the new measured level of imbalance is.

It is possible to copy some or all detected patterns from a session to a Prescribed Patterns List for this specific client, so that it can be quickly run at future times as a formula if so wished.
e-Pebbles and e-Pendants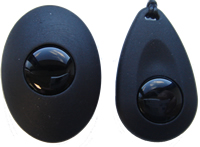 WDS also manufacture e-Pebbles and e-Pendants with the intention that the practitioner can then sell them on to the client for their personal use. If you allocate one of these devices to a client then you can place it into one of the brass wells during the balancing session and the same remedial patterns that are transmitted to the client will also be sent to, and stored by, the e-Pebble / e-Pendant. The client can then wear the device to continue to receive the same patterns. It is also possibe to remotely broadcast to an e-Pebble / e-Pendant from the e-Lybra system so that the existing patterns can be tooped up, or new patterns sent to give support for a new issue if necessary.
Making and Using Formulae
The e-Lybra 9 system comes with an initial predefined set of formulae which make use of some of the individual patterns within the database. An example of just a few of these predefined formulae are:
Anxiety and Stress
Cold and Influenza
Ear Infection
Initial Alignment
Osteoarthritis
Travel (Motion Sickness)
e-Lybra users can create their own formulae using any of the 330,000 existing patterns from the database, or from their own sampled patterns. It is also possible to sample an affirmation, such as CREATE A STRUCTURE TO RESTORE OPTIMAL LIVER FUNCTION.
When a formula is being constructed each individual pattern that is added can also be given a Pre-Directive Command (PDC), which is a verb that shapes the behaviour of the pattern. For example, you can RESTORE TO PERFECT BALANCE the Liver, or GIVE the homoeopathic remedy nux vomica, or PROTECT FROM the H1N1 flu virus.
Many Practitioners design very successful formulae which they then use for balancing for individual conditions and therapies. Other functionality in the e-Lybra allows the Practitioner to scan any individual anatomical part of the body for imbalances and provide a complementary balancing pattern. Included as standard are a comprehensive list of allergies and intolerances. All of the imbalances that are detected and processed can be copied into a personal formula plan, called a Prescribed Patterns List.
Formulae can be exported from the e-Lybra system in a single file and shared with other practitioners, which can then import the same formula into their own system.